About us
EDUCARE-WORLD is a service provided by DR-WALTER GmbH. In this section, you will find general information about the product EDUCARE-WORLD, about DR-WALTER and our contract partners for EDUCARE-WORLD.
EDUCARE-WORLD
The product EDUCARE-WORLD is an insurance combination exclusively offered through DR-WALTER or its distribution partners.
EDUCARE-WORLD is a combination of travel health insurance, liability insurance, accident insurance, baggage insurance and assistance insurance for language and exchange students, high school students, Work and Travel participants or participant in another educational or cultural exchange program, who want to be insured for up to 24 months.
The policy provides comprehensive insurance cover and is characterized by consequently putting our service philosophy into practice. EDUCARE-WORLD is the perfect one-stop insurance solution for young travelers. To learn more about all the other advantages of EDUCARE-WORLD, go to Your advantages from EDUCARE-WORLD.
Living Abroad Community e. V.
LAC stands for Living Abroad Community e. V. The LAC is an association that looks after the interests of people living abroad and provides them with information and services. One of these services is the framework agreement EDUCARE-WORLD that LAC concluded as policyholder and which provides its members with insurance cover during their stay abroad.
Learn more about Living Abroad Community e. V.
DR-WALTER
DR-WALTER is the leading expert in insuring private and business travel as well as stays abroad. In 2019, the company celebrates its 60th anniversary. DR-WALTER cooperates with a wide range of insurance companies and, as an insurance broker, is obliged to provide impartial and objective counselling and advice. In addition to its own insurance solutions, DR-WALTER also runs a number of portals on insuring international mobility.
At our headquarters in Neunkirchen-Seelscheid, Germany, we carry out all contract management as well as claims and payment handling. This ensures a quick and straightforward processing of your claims and requests. For more information about DR-WALTER and your contact partners, go to www.dr-walter.com.
Contract partners
For this insurance product, we cooperate with a number of renowned insurance companies:
Health insurance is provided by:

Allianz Partners, AWP Health & Life SA - Relations Clients,
Eurosquare 2, 7 Rue Dora Maar, 93400 Saint-Ouen, France.
Registration court: Trade and Companies Register Bobigny, No. 401 154 679
Accident, liability and baggage insurance is provided by:
Dialog Versicherung AG
Adenauerring 7, 81737 Munich, Germany.
Headquarters: Munich, Registration Court: District Court Munich HRB 234855
Assistance insurance is provided by: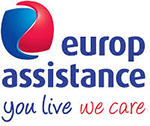 Europ Assistance SA, Niederlassung für Deutschland,
Adenauerring 9, 81737 Munich, Germany.
Headquarters and Registration Court: Munich, HRB 254820